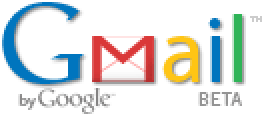 I have Gmail! All thanks to Asa's invitation link. I got started and really like it a lot. The interface is neat and clean. 'Conversations' sounds like a very innovative idea. I never actually try out most features, such as conversations labels and mail search, because my inbox is empty, for now. I tried composing and sending a mail to my friend, Navin, who also just had a Gmail account like me. As I'm kind of a guy who likes icons, I notice the neat Gmail logo, which shows a mail combined with the letter 'M'. If I'm not mistaken, that must be one of Dennis Hwang's artful doodles. Seems that David has a Gmail account two days ago and started to give some feedback. As for me, I'm just about to start, waiting for mails to accumulate my inbox.
Nowadays, Google is everywhere. I'm a Google fan and like the search engine very much, especially the Malaysian version. I got involved in Orkut, thanks to Chris Cunningham for inviting me. I start this blog using Blogger as the tool of my choice. And now, I have a Gmail account. 1 Gb of email storage space is definitely enough for me, which is 10 times more than Yahoo! Mail and 100 times more than Myrealbox. I could just predict if Google combines all these services together, it'll be absolutely wonderful.
So, whether you know me or not, feel free to drop me an email at cheeaun@gmail.com .