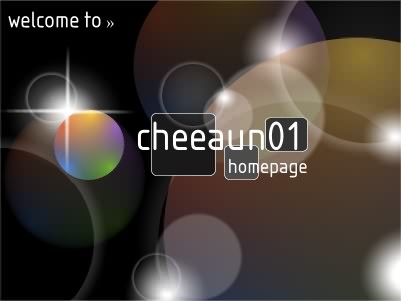 I was browsing into the dense jungle of files on my drive partitions and suddenly I found a very interesting graphic. It's created on 8 February 2002 and I've left it there till today. Wow.
It reminds me of my graphics design skill at that time. I simply love those duplicated images effect in the background. As for the text, I use the IsonormD TrueType font, which renders sleek curves around the edges. The light effects are pretty simple and a bit plain boring, though.
The logo is also simple, nothing but a mere circle with five colours blending into the center. And I don't understand why I put rounded-corner rectangles behind the text. Maybe they are additional decorations? Beats me.
This is a splash image I've created for my first ever personal home page on the web. If you're wondering, it was launched on 1 January 2002. It's gone now. cheeaun01 was my first nickname on the web. It's replaced with cheeaun now. How nostalgic.