Cheah Chu Yeow is the man! Though he hasn't been blogging much last few months, but he's sure capable to produce such wonderful book for everyone. Also not forgetting Asa Dotzler for being the Expert Reviewer of the book, while still able to spend a little time to blog.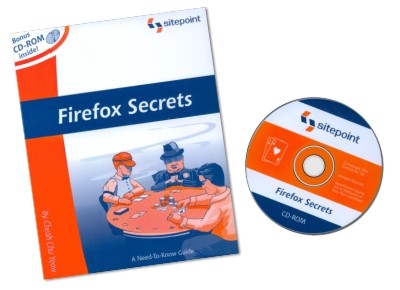 Just today, I received my free copy of the book Firefox Secrets, with bonus CD-ROM inside! Cool! Well, I'm not the only person who got it. Bernie Zimmermann, author of GrayModern theme, received one too, much earlier because the place I live is further than his, I guess. Last April, Simon Mackie, the Managing Editor of SitePoint, sent an email to get my permission to include Phoenity on the CD. I agreed and now I got the book in exchange of it.
The book is quite handy, with bright orange and dark blue colours on the cover. I skimmed through and found my theme is introduced on page 110 under chapter 4, 'Dressing up Firefox'. A screenshot of Phoenity theme is also displayed on the next page, along with Arvid Axelsson's Qute. I'm relieved that 'Phoenity' is spelled correctly because I always spot some people misspelled it as 'pheonity' or 'phoenicity'. Haha. Surprisingly, the term 'Phoenity' is also mentioned in the last 'Index' section of the book!
The CD includes two applications, Firefox 1.03 and Thunderbird 1.02. Both are older versions though. It contains few interesting themes and extensions which are featured in the book. Phoenity version 1.5.1 is included as well. I really admire Chu Yeow's skill for writing such detailed yet friendly guide, complete with clear screenshots, examples and explanations. Highly recommended, indeed.
Firefox Secrets costs $29.95 US from O'reilly. And I'm not sure if this book has arrived our Malaysian book stores. So, am I the first Malaysian to have it?