A belated hello to 2011. To my surprise, this blog went on a hiatus for one whole year. I guess my new year resolution to blog often fails terribly, due to many factors, usually my procrastination. Sometimes thoughts pop into the head, and yet I feel lazy to blog about it. Honestly, it's more troublesome to blog than to tweet.
Nevertheless, I took the past few weeks to give this site a fresh new look. Behold, the fourth redesign.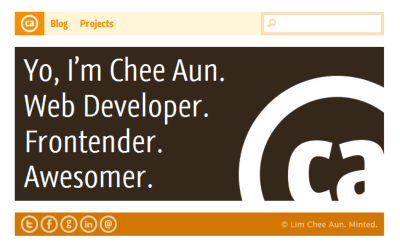 The design is very simple and minimalistic. Just the way I like it. Besides that, nothing much of the site has changed except some minor updates, for example, my recent projects list.
So hopefully, I'll post more stuff here for this year and so on. Thanks for reading.